PANORAMA
Panorama Newspaper is a weekly periodical that covers 43 states in the U.S. and 23 countries throughout the world. Highlights include politics, culture & leisure, business & law, health & medicine, and entertainment.
Our clients include Fortune 500 corporations, as well as small, private enterprises engaged in a variety of industries. Among some of our most prestigious advertisers are: AT&T, Bank of America, BMW, Cedars-Sinai Medical Center, Coldwell Banker, Hilton, Hollywood Bowl, LA Philharmonic, MCI, Mercedes-Benz, Metlife, MoneyGram, Mutual of New York Group, Payne Webber, Rio Hotel & Casino, Rolex, Government of the State of California, Western Union.

PANORAMA

Newspaper

provide

s

Advertising

services which reach the 18 to 65+ year old Russian-speaking adult. According to the public statistics, the Russian-speaking population in Southern California exceeds 650,000, while the total number for the U.S. is close to 5,000,000, and counting.
We assist our clients in identifying opportunities that will promote their products and services while reaching their business goals within the Russian community. Our goal is to always maintain the quality and effectiveness of the marketing campaign.
PANORAMA is published in Los Angeles, California since 1980. Comes out on Wednesdays on 74 pages (Tabloid size). It's very popular Russian publication on the West Coast of the U.S.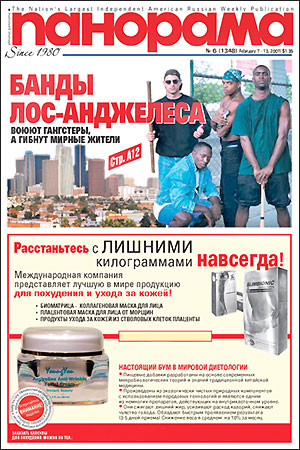 For more information
contact to our
English-Russian
speaking
Representative
at (718) 648-3511
or via E-mail:
masterpage@inforeklama.com